Wisdom's Real Opposite: new book from Colin Dodds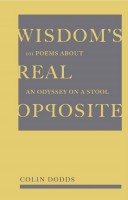 About a year and a half ago the S&R literary journal published a couple of very good poems from Brooklyn-based poet Colin Dodds. Now Colin has published a new book, and we wanted to encourage our readers to give it a look.
It's called Wisdom's Real Opposite and it's available in several formats at Smashwords.
Happy reading, and congrats to Colin.